留学生在线请销假申请指南
为确保疫情期间留学生请销假申请的有序高效进行,国际教育学院联合信息中心推出"留学生请假申请模块",即日起投入使用,所有因特殊事由需离宁、离校的请假均需通过该模块进行线上申请。
In order to ensure the sufficient online application for leaving and returning to campus for all international students, the School of International Education together with Information Center launched the "Leaving Application System for International Students", which is currently in use. All international students who need to leave Nanjing or leave campus and stay outside overnight out of unavoidable circumstances must apply online through this system.
一、请假模块指南 Instructions for leaving application
步骤1
Step 1:
电脑点击http://my.cpu.edu.cn/EIP/user/index.htm,登陆中国药科大学统一身份认证,打开网上办事大厅服务中心。推荐使用谷歌浏览器。
Use a PC instead of phone. Click the link and Login CPU identity to open CPU Online Service Center. Google Chrome is recommended.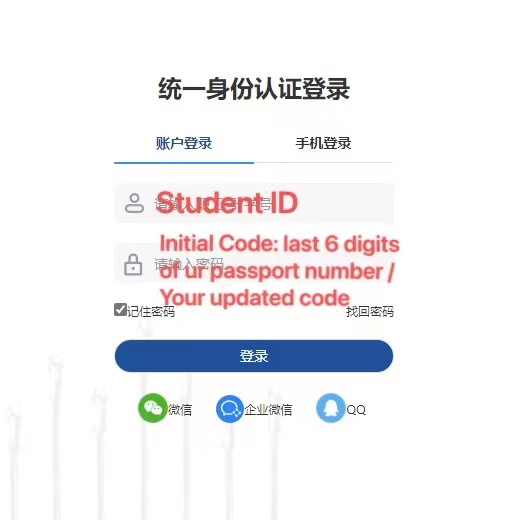 在部门中找到"国际教育学院"并点击。或搜索"留学生"三个字,选择"留学生离校/请假申请"模块。
To see functions available to international students, either use "Ctrl+F" to find "国际教育学院" among the schools. Or search "留学生", and then click "Application for leaving campus for on-campus international students".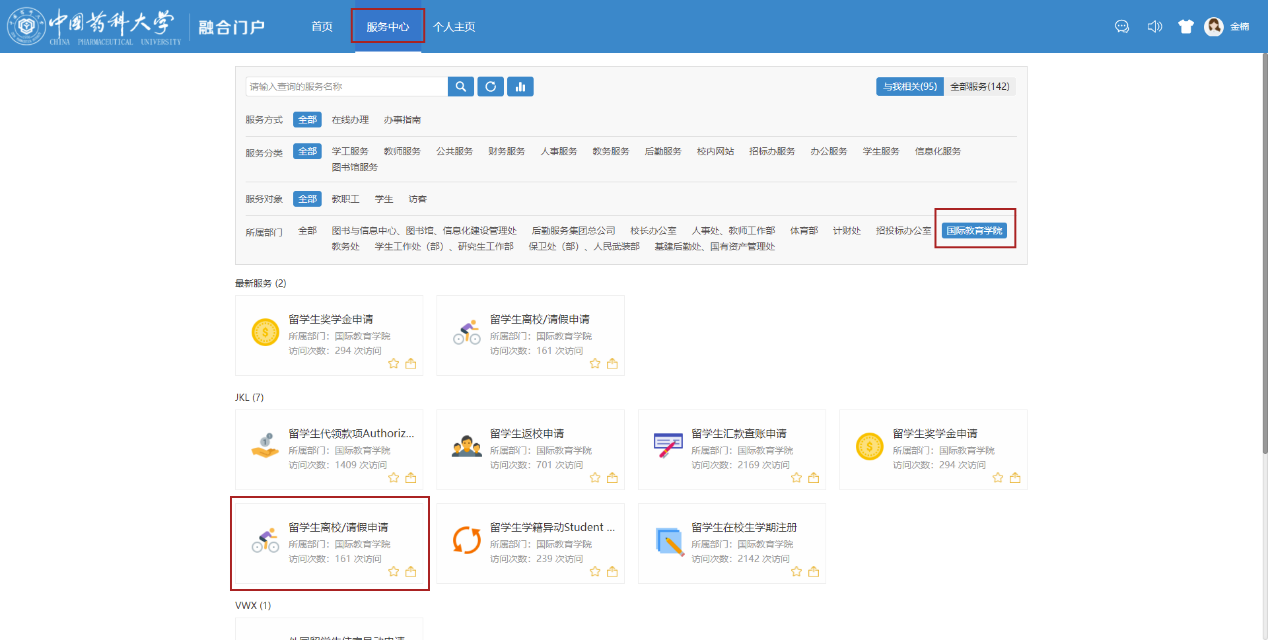 步骤2
Step 2:
如实填写申请表中的各项信息,包括学生信息、离校须知、健康情况、学生离校行程登记、离校承诺。如有隐瞒或虚假,学生需自愿承担相关责任!
请注意所有上传图片大小需小于等于2M。
Fill in all the information in the application form truthfully, including student personal information, notes, health situation, registration of the leaving campus arrangement, and promise of leaving campus. If there is any concealment or falsehood, students need to voluntarily assume relevant responsibilities!
Please note that the size of all uploaded images must be less than or equal to 2M.
How to apply for Jiangsu Health Code (苏康码) http://international.cpu.edu.cn/fd/19/c373a130329/page.htm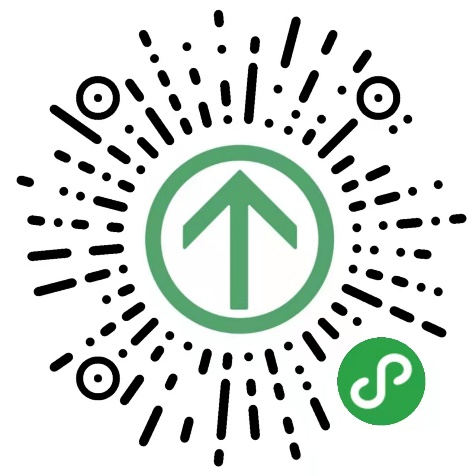 Scan the following QR code for the travel history
How to apply for CPU Health Code(药康码) http://international.cpu.edu.cn/5a/2e/c399a154158/page.htm
The 14-day CPU health code record shall clearly show that you have been doing it for 14 consecutive days. Eg.: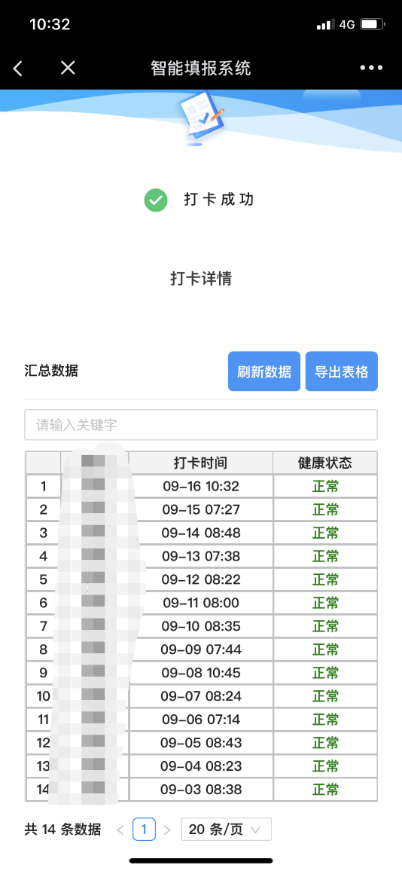 在填写"航班号/车次号/车牌号/其他信息"栏时,如有无法提前确认交通工具信息的情况,请具体说明。乘坐地铁换线或使用多种交通工具的留学生,请写明所有交通工具的具体信息。
For the "Flight number/train number/license plate number/other information" part, please specify if you cannot confirm the vehicle information in advance. For those who transfer metro lines or use multiple means of transportation, please specify the information of all means of transportation you used.
Eg.: Metro line 1 to metro line 10
Metro line 1, train number: xxxxx

所有内容均为必填项。 All items are required to fill in.
步骤3
Step3:
完成填写后,请点击页面右上方蓝色"提交"按钮进行提交。
After completing the filling, please click the blue "Submit" button at the top right of the page to submit.

步骤4
Step4:
学生完成提交后将由学院进行审核。审核通过后学生会收到如下系统提醒。请注意学生只可在批准返校日期当天离校,其他时间不得离校,具体离校日期可在申请表最下方"批准离校日期"栏查看。
After the student completes the submission, it will be reviewed by the school. After the review is passed, students will receive the following system reminder. Please note that students can only leave school on the approved leaving-campus date and are not allowed to leave school at other times. The specific approved leaving campus date can be viewed in the "Approved Leaving Campus Date" at the bottom of the application form.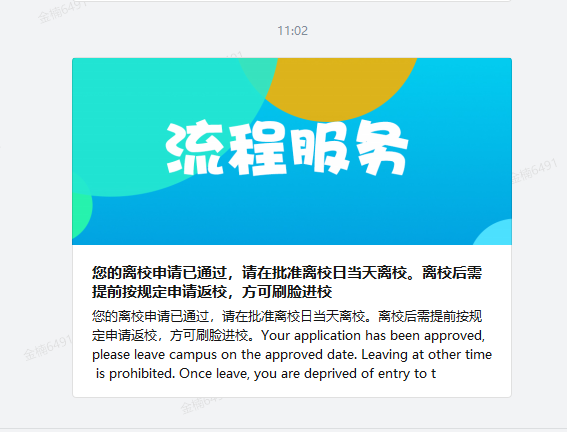 审核不通过的学生申请将被退回,学生可进行相应修改后重新提交。
Student applications that fail the review will be returned, and students can resubmit after making corresponding amendments.
注notes:
申请离校成功后,学生离校期间学校门禁系统不开放。请按照规定提前申请返校,门禁系统方可开放。
Once approved, the student will be deprived of entry to the campus in University Entrance System during his/her leave. Please apply "return to campus" in advance according to the regulations, then the student can enter the school by scanning his/her face.
二、返校申请指南 Instructions for return-to-campus application
销假及住校生返校请通过"返校申请"模块操作,详见早前通知。
To apply for returning-to-campus for international students, please refer to the earlier notice for details: http://international.cpu.edu.cn/5b/3e/c399a154430/page.htm
附件:行政班级与班主任汇总
Attachment: Summary of Class and Class Mentor Information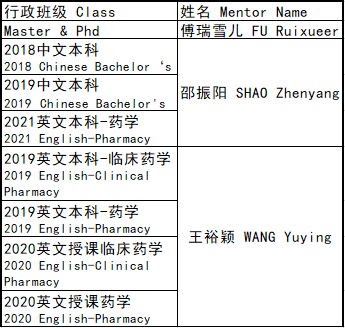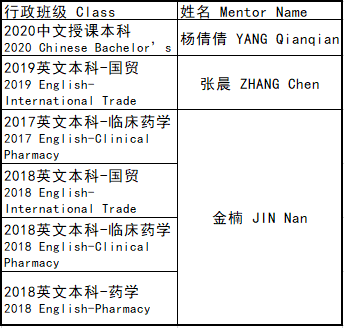 请确认好本人行政班级以及对应班主任姓名,并将线上申请报送至班主任处。
Please confirm your administrative class and corresponding class mentor, and submit the application to your mentor online.
国际教育学院
2021年12月28日
School of International Education
December 28, 2021