关于近期疫情防控工作的紧急通知
根据南京市和江宁区疫情防控工作的相关要求,现将近期有关事项通知如下:
CPU's recent policies on epidemic prevention & control are notified as follows, according to the relevant requirements in Nanjing and Jiangning District,
一、所有在宁师生如11月19日以来有苏州市旅居史、11月21日以来有徐州市旅居史、11月10日以来有上海市浦东新区、青浦区旅居史或11月22日以来有杭州市旅居史,或接触过有以上旅居史或密接者的人员,请第一时间向所在班级班主任报告,配合做好各项防控措施。如瞒报、谎报个人行程或健康状况造成不良后果的,将依法严肃追究法律责任。
All faculty members, staffs and students who have travelled to Suzhou since 19th November, or to Xuzhou since 21st November, or to Shanghai Pudong New Area or Qingpu District since 10th November, or to Hangzhou since 22nd November, or contact with people mentioned above, please report immediately to your class mentor, and cooperate with our epidemic prevention and control measures. Those who conceal or falsely report their personal formation or health status and cause adverse consequences shall be investigated for legal responsibility.
二、在校学生非必要不出校,所有人员非必要不离宁。确因特殊情况需要离宁的,务必事先向学院报备并向班主任提交离宁申请。
Students on-campus are not allowed to leave campus unless necessary. All faculty members, staffs and students are not allowed to leave Nanjing unless necessary. Students who need to leave Nanjing under very special circumstances must report to the School of International Education in advance by submitting an application form for leaving Nanjing to the class mentor.
三、所有在校学生于今日(11月26日)下午3:00前更新个人的苏康码和行程码,并将截图发送至班主任处。
All students shall update their "Jiangsu Health Code" and "Travel Code" and send screenshots to your class mentor by 3:00 PM today (November 26).
四、请留学生及时关注疫情防控信息,关注中高风险疫情地区,不得前往中高风险区。不与来自中高风险地区人员接触。扫描下方二维码即可查询最新疫情风险等级。
International students are requested to pay attention to epidemic prevention and control information in a timely manner, pay attention to the medium and high-risk areas, and avoid going there. Do not contact with people from middle or high-risk areas. Scan the QR code below to check the latest epidemic risk level.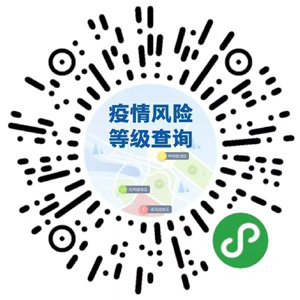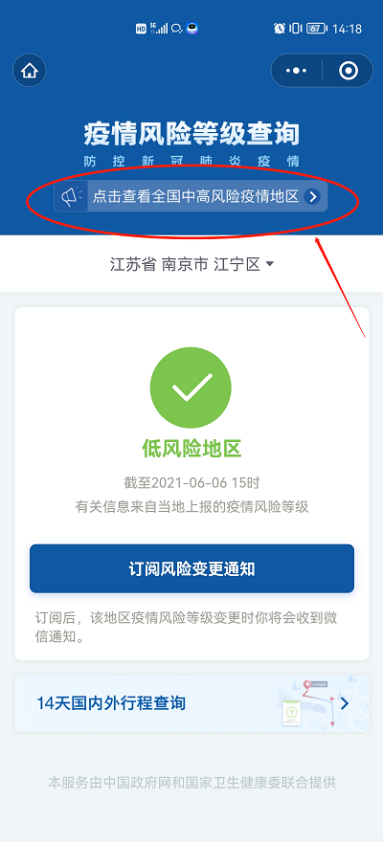 五、请继续严格遵守学校及学院假期疫情防控各项要求,详见http://international.cpu.edu.cn/4f/2e/c399a151342/page.htm
以上通知根据疫情发展情况及上级通知随时更新。
Please continue to strictly abide by the school's and university's holiday epidemic prevention and control requirements, see http://international.cpu.edu.cn/4f/2e/c399a151342/page.htm
for details.
The above notifications can be updated at any time based on the development of the epidemic situation and notifications from the university leadership.
国际教育学院
School of International Education
2021.11.26