关于2022-2023学年第一学期留学生期末考试的通知
Notice on the Final Examination
Academic Year 2022-2023, First Semester
全体留学生:
International Students,
现将2022-2023学年第一学期期末考试安排通知如下:
The final exams of Academic Year 2022-2023, First Semester will be arranged as follows:
一、考试时间 Time
2023年2月10日-2月21日。英文授课本硕具体场次见附件1。
Feb. 10th– Feb. 21st, 2023. For detailed schedule of English-taught Bachelor's and Master's, see Attachment 1.
英博、中硕、中本考试日程由教务科单独安排。
For English-taught Ph.D.s, Chinese-taught Master's and Bachelor's, the schedule will be otherwise notified by Academics Office.
二、考试方式 About the exams
实验、实践、实训课不安排集中考试。在17、18周随堂考试或以提交论文、作业形式考核的课不安排集中考试,请同学们在老师规定日期前提交材料。
仅有线上授课的课程均采取企业微信线上考试。有线下授课的课程安排教室,线下授课的学生必须线下考试。
Final Exams do not include: Lab and practicum courses, or the final score is decided by course paper, homework, or in-class quiz during Week 17-18. For such courses, students must submit the material(s) before the deadline as required by professor.
For courses that are taught online only, WeChat Work online exam will be arranged. For courses taught both online and in classrooms, students who are on-campus must take paper-and-pen exams.
三、考试纪律 Exam Rules
考试资格、缺考、缓考、考场纪律的基本规定参见学业手册5-6页。
For the general rules about qualification, absence, postponing and rules of exams, see Page 5-6 of Academic Handbook. http://international.cpu.edu.cn/68/37/c399a157751/page.htm
四、考试要求 Exam Requirements
(一)线下考试 Paper-and-pen exams
1、参加线下考试的留学生必须随身携带校园卡。
Students must take their campus card to attend paper-and-pen exams.
2、线下集中考试的留学生请在考试中全程戴口罩、隔位坐、无接触。
Students are required to wear masks, sit at least one meter from each other, avoid gathering and talking during the whole exam.
(二)线上考试 Online exams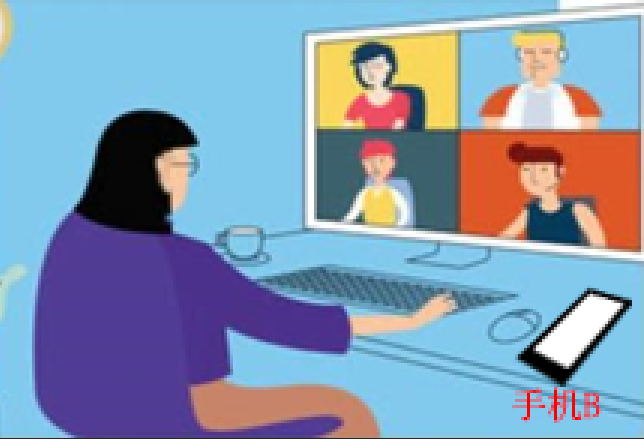 Mobile phone A camera view
1、线上考试的考生应配备一台电脑及两部智能手机,须至少提前一周调试设备和网络。电脑用于接收和打开试卷(PDF格式,背景色浅绿),手机A用于监考,手机B用于考试结束时拍摄答案并发送给老师。考试期间手机A须全程开启企业微信视频会议功能,放置在合适的位置,距离考生不得超过1米,须能够完整看到手部、电脑屏幕、答卷纸和手机B。手机B在拍摄答卷纸前禁止移动,全程须一直出现在手机A拍摄范围内直到视频会议结束。考生桌上不能放置任何与考试无关的材料。
Students taking the online exam should prepare a computer (laptop) and two mobile phones by themselves. Test the equipment and internet at least ONE WEEK in advance. The computer (laptop) is used for receiving and displaying the exam paper (PDF file in green background color). Mobile phone A is used for invigilation. Mobile phone B is used for taking photos and emailing the answers sheets after the exam ends. Mobile phone A's video conference of WeChat Work should be kept on during the whole exam, placed around the student (the distance should be within 1 meter) and the student's hands, computer screen, answer sheets and Phone B must show up in Phone A's camera view until the end of video conference. Mobile phone B shall not be moved before taking photos of answer sheet. Anything unrelated with the exam shouldn't be placed on the desk.
2、考生应将答案写在事先准备好的空白纸上,考试结束5分钟内须将答案拍照并将照片发送至指定邮箱。迟发邮件或发送格式有问题的照片都将视为无效。提交答卷后考生须保持视频会议并且不得离开摄像范围。经监考老师允许后,考生方可退出会议、关闭摄像头或离开监控范围。
Students must write answers on prepared blank papers, take clear photos and sent to the designated emailbox within 5 minutes when invigilator announces the end of exam. Late submission with format problems are not acceptable. After submission, students should not leave the seat and must keep the video conference on before invigilator approval to leave.
3、考试期间,考生应全程打开话筒,并保持安静,不得使用耳机或关闭话筒。
Students should keep the microphone on, keep quiet, and do not use headphones or mute the microphone during the period of exam.
4、考生如需提前交卷,应举手告知监考老师,得到监考老师允许并确认交卷后方可退出视频会议。
Students who need to submit their answer sheets in advance should raise their hands and inform the invigilator. Only with the invigilator's permission and confirmation of the submission of answers can they quit the video conference.
5、考试期间学生有以下行为之一或有以下情况之一发生的,视为考试无效:
If students have one of the following behaviors or one of the following situations occur, the final score will be recorded as 0:
(1)考生有《考试纪律》规定的违纪或作弊行为的:
Student violates the exam rules or cheats;
(2)考生在考试开始后15分钟内没有进入考场的
Student fails to log in the exam WeChat video conference within 15 minutes after the exam starts;
(3)考生不按老师要求摆放设备或在考试中擅自移动设备的;
Student fails to put the equipment as required or moves the equipment without the invigilator's authorization during the exam.
(4)考生直播画面出现3次以上停滞或黑屏,或单次停滞或黑屏超过10分钟的;
Student quits the video conference or black screen/pause occurs for more than 3 times, or a single black screen/pause exceeds more than 10 minutes;
(5)考生被发现切换电脑屏幕至桌面/网站/其他应用程序3次以上的;
Switching computer screen for desktop/website/other software or application for more than 3 times;
(6)考生擅自离开视频监控范围的;
Leaving video invigilation area without authorization;
(7)监考人员认定的其他有损考试公平的行为。
Other behaviors or situations identified by the invigilator as detrimental to the fairness and justice of the exam.
五、其他 Others
所有参加考试的留学生考前一周须在班级群签署《考试纪律承诺书》(附件2)。
Students are required to sign the Examination Rules Commitment one week before the exam.
附件一Attachment 1: 考试日程和场次Final Exam Schedule

2022-2023-1期末考试日程 -0207.xlsx
附件二Attachment 2: 考试纪律承诺书Commitment

附件二Attachment 2 考试纪律承诺书Commitment0207.doc
国际教育学院
School of International Education