April 15th, 2019: CPU held its second "International High School Principal Forum" in Jiangning Campus. The forum invited more than 20 high school principals and officials from Mongolia, Morocco and Turkey, etc. to discuss educational cooperation and student enrollment. CPU Vice President Prof. KONG Lingyi, Dean of the School of International Education Prof. XU Xiaoyuan, and Vice Dean Qiu Mingming attended the forum.

At the forum, Vice President Kong expressed warm welcome to the arrival of the principals and officials. He said that as one of the national 211 project and double first-class universities, CPU has been actively promoting CPU education to the world, improving its level of internationalization, and continuously improving the quality of international students' education. CPU has integrated favorable resources, well-established undergraduate, master's and doctoral degree programs in English, and a comprehensive scholarship system, that allow outstanding international students to study at the university. Over the decades, the scale and quality of international students has increased greatly and CPU has trained more than 1,000 pharmacy talents in the world. He hopes that this forum can be an opportunity to build a platform for exchanges and cooperation, deepen mutual understanding, promote multi-level cooperation, and attract more outstanding students to study at the university. Subsequently, Dean XU Xiaoyuan gave a detailed introduction to CPU's history, disciplines, achievements in educational and research, international exchange and cooperation, international student education, admissions policy and scholarship setting. At the same time, international student representatives introduced and shared their own study and life moments with the principals.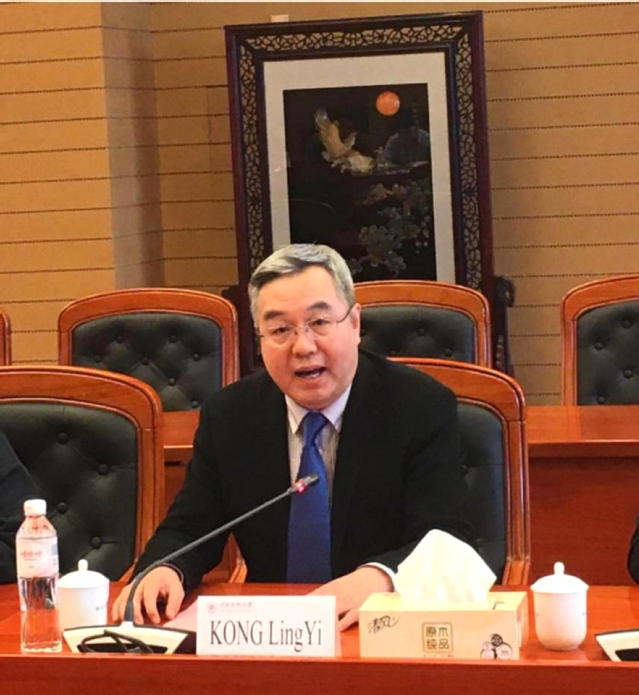 The guest speakers included:
UUGANBAYAR TUMURKHUU, Director of Mongolian Ministry of Education, Culture, Science and Sports,
DAMIRI RIDA, School of Scolaire Le Major, Morocco,
TSOLMONBAATAR TSERENDEJID, 23rd President of Mongolia.
They expressed their gratitude to the hospital for their hospitality, and introduced their education system, school profile, high school students' overseas study needs and the status quo of Chinese learning.
During the discussion session, CPU and foreign representatives exchanged ideas about undergraduate enrollment policies, student enrollment, short-term language and cultural projects, enrollment base construction, teacher training, scholarship policy, application process, etc., and initially reached agreement on short-term project cooperation and enrollment base construction. The foreign delegates agreed that through this forum, they have a new understanding of the University and China's pharmaceutical education. After returning to China, they will actively promote China Pharmaceutical University and facilitate exchanges between schools and institutions, and select excellent students to CPU.
During the forum, the delegation also visited CPU's Pharmacy Museum.