The 2021 Annual Conference of Jiangsu Association for International Education (JAFSA) was held in Nanjing Agricultural University from December 26 to 27, 2021. Leaders from the Jiangsu Education Department, Department of Public Security, and other relevant departments along with 100 participants from 97 member institutions in the province gathered in Nanjing. More than 500 representatives from various member universities attended the Conference online together.
The Conference honored the 2021 outstanding universities in international students education , and China Pharmaceutical University was once again awarded the 2021 Outstanding Group of International Students Education of Jiangsu Province. CPU has been awarded this honor for five years consecutively.
Prof. Xu Ming, Dean of the School of International Education, was invited to report to the Conference on the work of Seminar on Quality Online Teaching under Pandemic. In this report, Prof. Xu Ming concluded the access to optimize high-quality curriculums and integrate them into the talent cultivation system as well as their significance. He also analyzed the difficulties and measures of online teaching under pandemics. The report received widespread attention.
In the face of the new beginning, new tasks, and new challenges, the university is working on improving quality and efficiency, standardizing management, completing policies and preventing risks, centered on stability. CPU spares no effort to ensure the scale of international students, prevent the risks of the pandemic to improve management skills, apply digital technology in teaching and learning, and maintain international exchanges and cooperation. The university will continue to follow the relevant requirements of the Ministry of Education and Jiangsu Education Department, make early arrangements to cope with the changes, and grasp the opportunities and challenges in the post-pandemic era.
School of International Education
Dec.28, 2021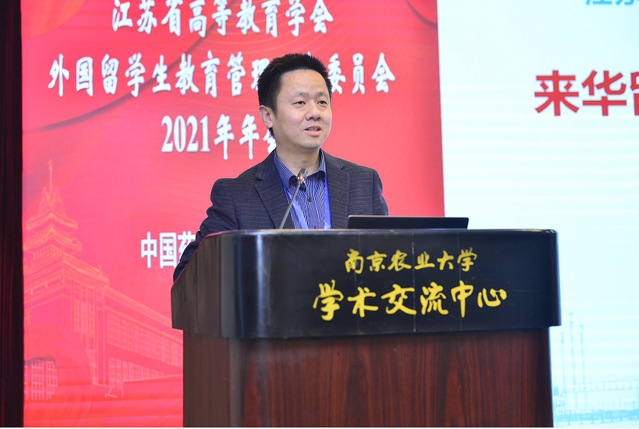 Prof. XU delivered speech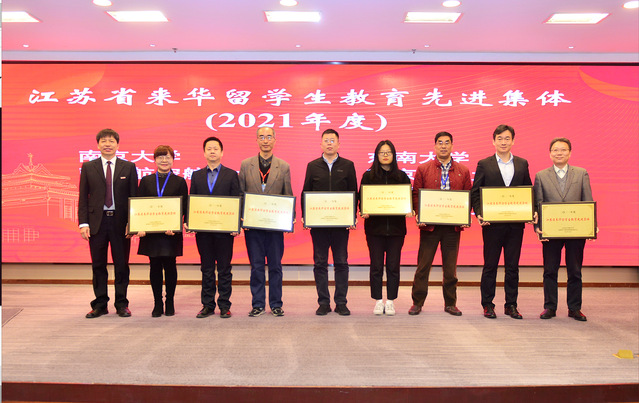 "2021 Outstanding Group of International Students Education of Jiangsu Province" awarding