China Pharmaceutical University's 7th International Pharmaceutical Students Academic Forum was held Nov.28, 2020 at the Conference Hall 111, Economics & Arts Building, Jiangning Campus. Held during the pandemic, the forum was attended both in person and online by more than 200 international students and expertsfrom universities across the nation, including CPU, Shanghai Jiao Tong University, Xi'an Jiaotong University, Shengyang Pharmaceutical University, Nanjing Medical University, Wenzhou Medical University and Wenzhou University.
The opening ceremony was attended by Prof. KONG Lingyi, Vice President of China Pharmaceutical University, Ms. SHI Yunyu, Deputy Director of Department of Foreign Cooperation and Exchange of Jiangsu Provincial Department of Education, Ms. WANG Bin, Director of Higher Education and Teacher Training Department, Nanjing Education Bureau. Vice President KONG presented his speech on the opening ceremony. He expressed his warm congratulations on the holding of the forum and expressed his sincere welcome and gratitude to all partner universities and students. He pointed out that China Pharmaceutical University has always been committed to cultivating international pharmaceutical talents and serving human health. "We pay special attention to cultivating students' innovative thinking and innovative research capabilities to help students better serve new drug development and public health", he said."Facing the severe challenges of epidemic prevention and control, CPU puts the safety and health of every student in the first place, and has formulated practical safety regulations to ensure the normal study and life of the students." He believes that the forum provides all international pharmacy students in China with opportunities to showcase scientific research results and explore scientific frontiers, actively promote exchanges and cooperation, and build a platform for the exchange of pharmaceutical research results.
ZHU Zhilong, vice dean of the School of International Education, then gave a brief introduction of the forum, and extended warm welcome and sincere thanks to the guests and students. The opening ceremony also held the awarding of "Most Popular Teachers among International Students", "Jiangsu Government Scholarship", "Nanjing Municipal Government Scholarship" and "CPU Presidential Scholarship for International Students". Vice President KONG, Deputy Director SHI and Director WANG presented certificates to the award-winning teachers and representatives of international students.
The keynote speech titled "Microfluidic Encapsulation of Colloids: Merging the Best of Two Worlds" was delivered by Prof. LIU Dongfei from CPU School of Pharmacy. Prof. Liu introduced the high-throughput preparation of ultra-high drug-loaded particles with the support of the fluid controllable mixing platform in simple language, and won bursts of applause.
The main session of the forum included academic presentation and poster exchange. After the preliminary review by experts, a total of 10 international students from 8 colleges and universities were selected for academic presentation and 18 international students for academic posters. Through online introduction and in-person discussion, the students shared their innovative ideas in pharmaceutical scientific research and discussed the latest research trends. The forum set up the first, second and third prizes for academic reports and posters. After fierce competition, Confidence Dordoe, a Ghanaian international student from Wenzhou Medical University won the first prize for academic reports, and Hajra Zafar from Shanghai Jiaotong University won the first prize for posters. Finally, the judges conferred honorary certificates to the awardees, and the forum came to a successful conclusion.
This forum has been successfully held for seven consecutive years. More than 1,700 international students in China participated in the forum, sharing their academic achievements and learning experience in China in the form of academic posters, speeches, and workshops. The successful holding of this forum will further create a good academic atmosphere for international students from various universities to display scientific research results, discuss and explore the latest scientific progress, exchange and inspire new ideas, and improve the scientific research level and quality of education.
School of International Education
Written by MA Jiwei
Translated by LIU Qi
Photos by HONG Zhichao and GUO Yi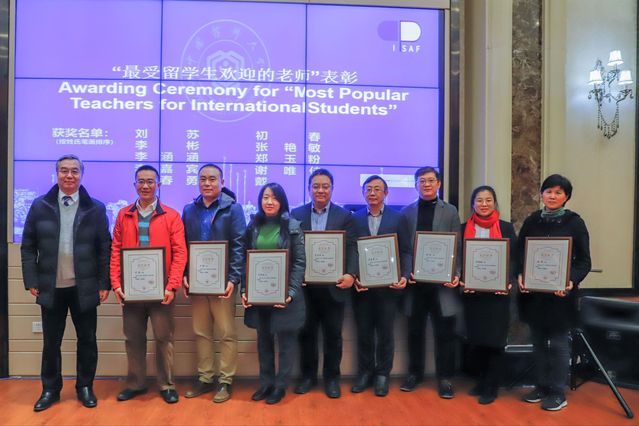 Vice president KONG conferring awards to the Most Popular Teachers among International Students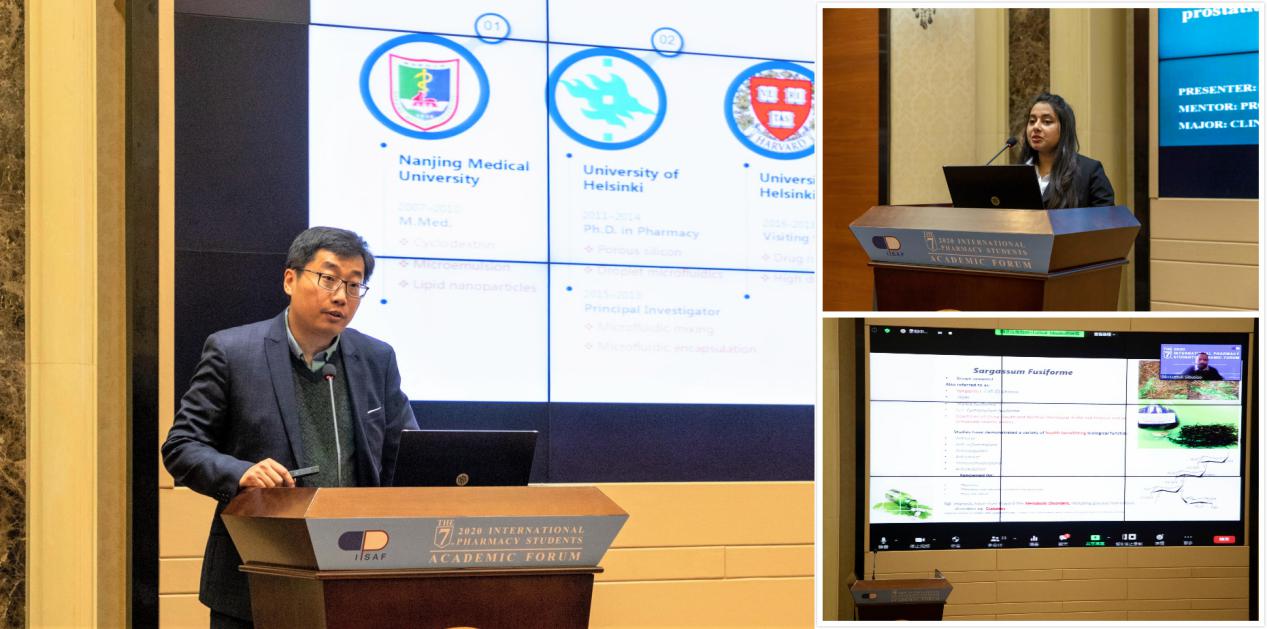 Prof. LIU Dongfei delivering keynote speech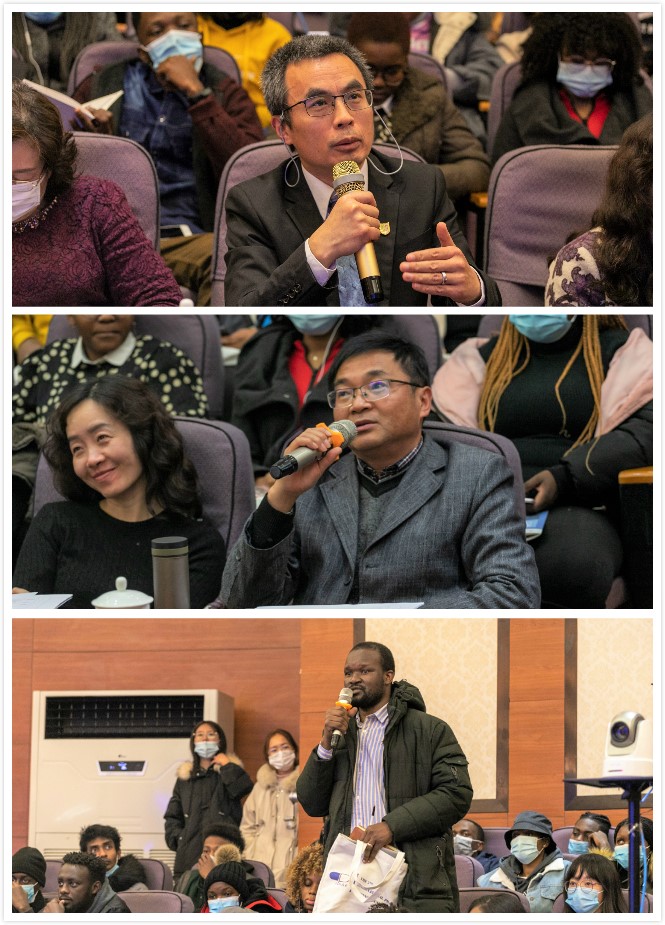 Q & A session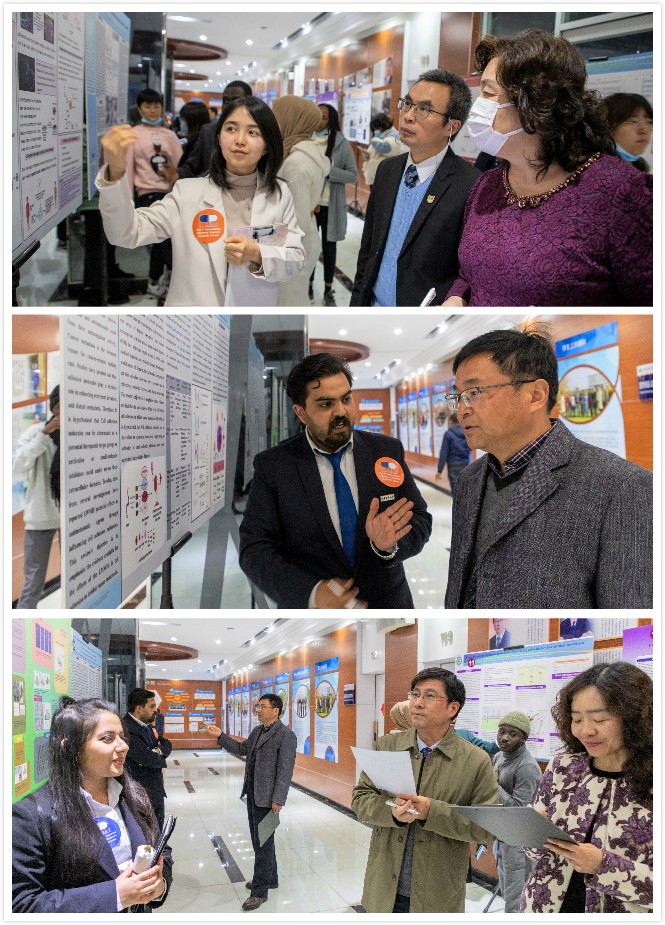 Poster exchange