CPU will implement a Face Recognition system for all international students' attendance check since September 2018, as a measure to strengthen student administration. All full-time international students will have to use the Face Recognition to check in and out twice a week throughout semester, and during important events. The current fingerprint check for full-scholarship students' monthly stipend, Undergraduate Office routine check, Class Mentor and Guidance Counselors' random check, are still on-the-run and unaffected.

Technical Requirement:
(Trial stage May to June 2018)
Each student except those graduating June 2018 shall provide a valid mobile phone number to the office, download 钉钉 https://www.dingtalk.com and activate their mobile account.
Swipe the QR code from a computer:
1.Open the website and click "下载钉钉" on the right-top of homepage.

2.Select your mobile phone's operation system (Android or iPhone) and swipe the QR code to download.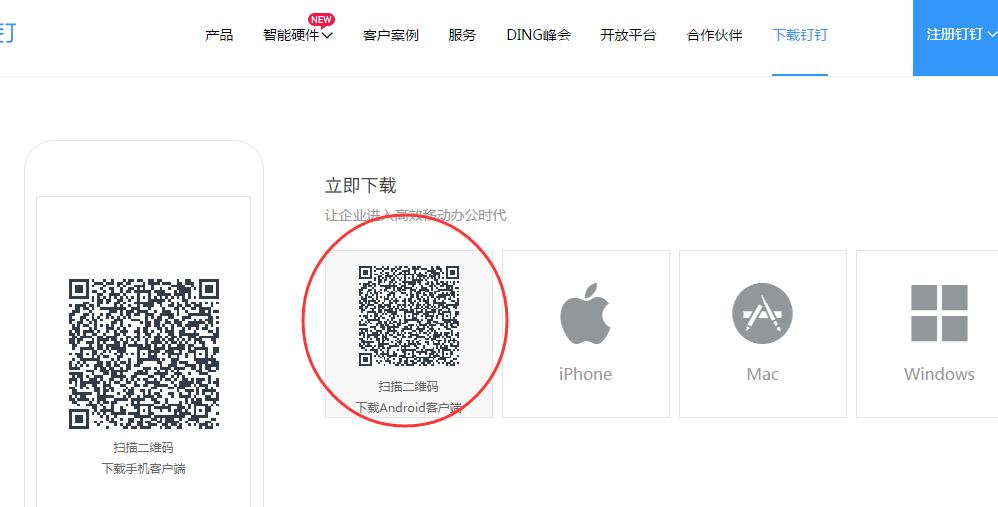 Don't have a computer? You can search "Dingtalk" or"钉钉" (Pinyin input: Ding Ding) at App Store and download.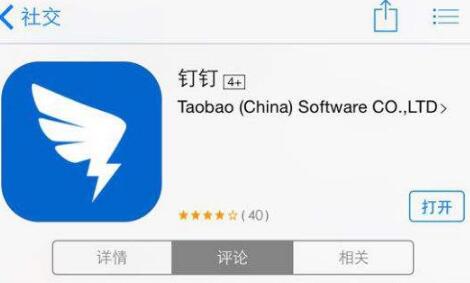 3.Install and click the APP.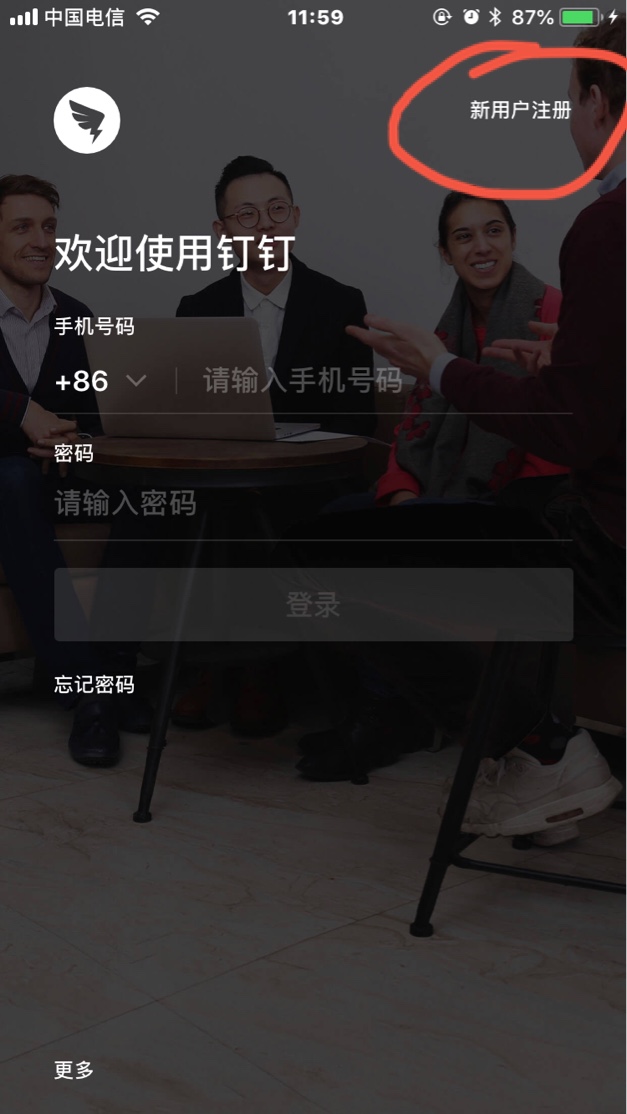 4. Type in your mobile phone number (the one you provided to the office. One student can have only one account. If you changed your phone number, report to the office before activating the account) and click "下一步" (next). You will receive a text message including a verification code. Type in the verification code to activate your phone number.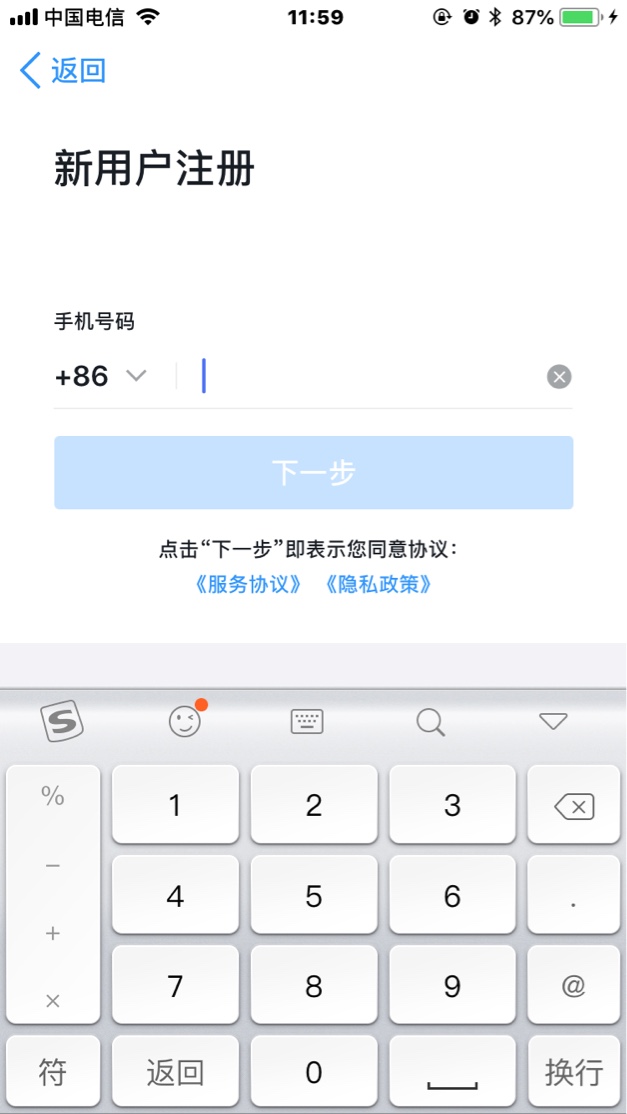 5.Then you can login your mobile account and see the interface as below: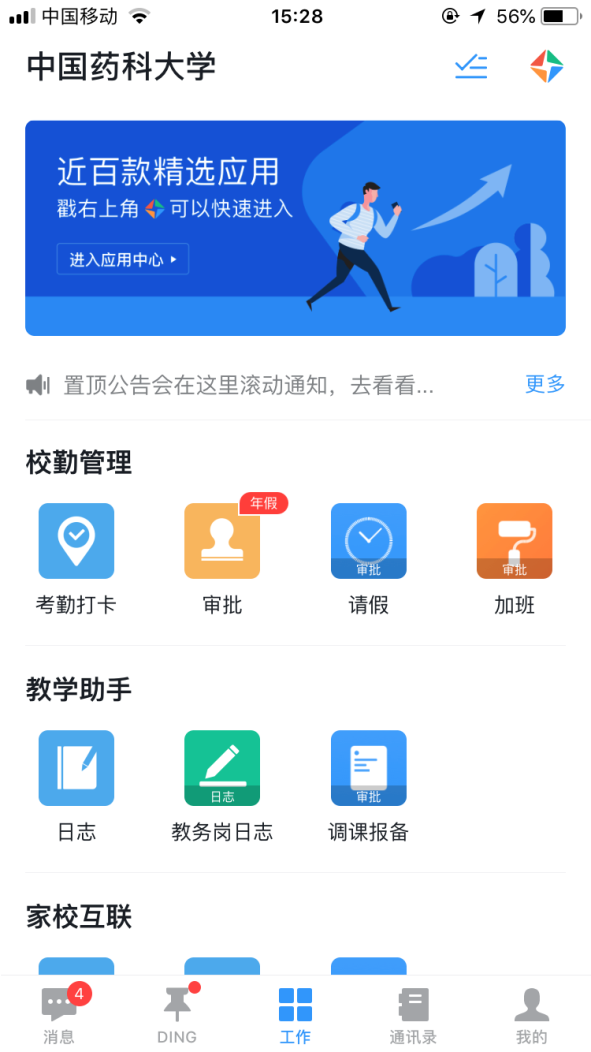 6. Click "工作" on the bottom of the page
and then "考勤打卡" icon on the left-top.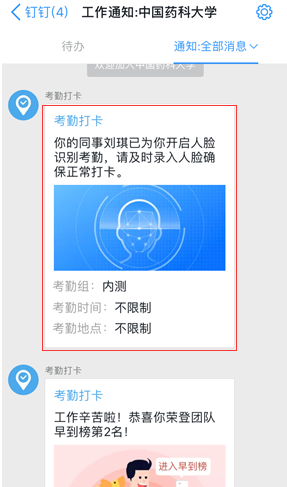 7. Click "考勤打卡" to continue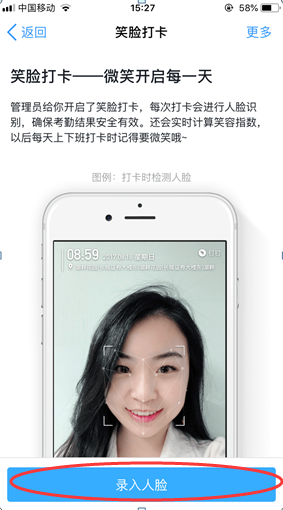 8. For the first time, the system will need to register your face. Click "录入人脸" to continue.
9. Look at the screen, blink and smile and turn your face left and right until it says successful.
Photo and video clip won't work.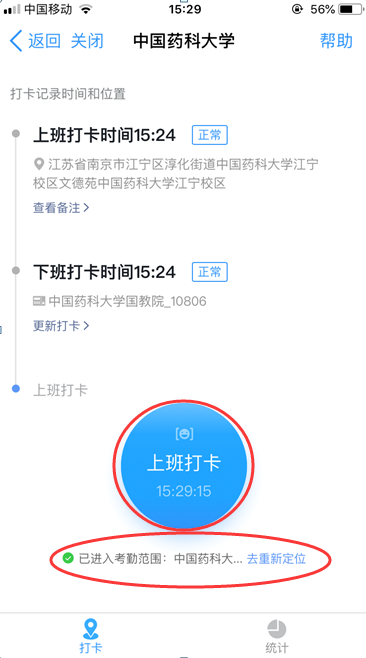 10. If you have wireless connection to the Internet and if GPS check-in is available to you, you will see "已进入考勤范围:中国药科大学…" on the bottom of page, click "上班打卡" and then "下班打卡" in 15 minutes.
11. Repeat the same process for each attendance check.
Frequency:
eneral requirement for all: Monday and Friday every working week throughout semester.
We are aware that many students have more than one mobile number. It is strictly forbidden to register, recognize face and make false check in/out record for another student, and it's very easy to find out who's falsifying. Once detected, the student will be added into a "low credibility" user group and have to check in and out through a Face Recognition machine at the classroom instead of his/her own mobile phones, and demerit record will also be put into his/her profile.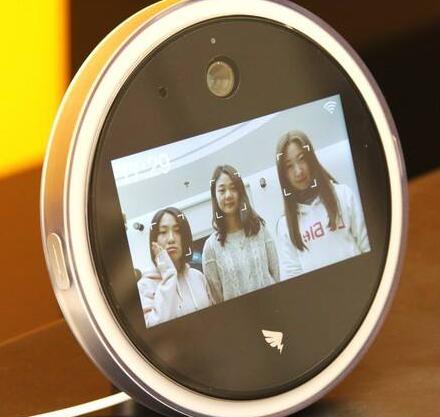 Specific requirement: For important student conferences, workshops and events, checking in and out on a specific day is required.
Within 300 meter radius of the following locations:
Jiangning Campus:
1.Classroom Building C
2.Lab G
3.Building of Liberal Arts and Business
4.Building of Clinical Medicine
5.Building 5, Zijin Science Park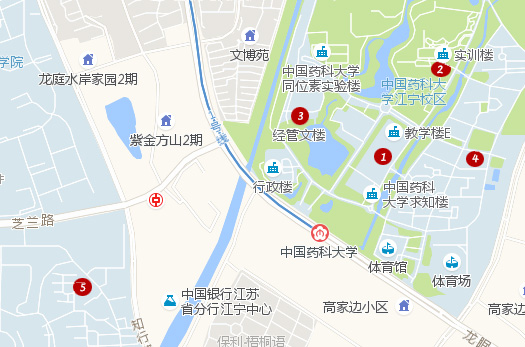 Xuanwumen Campus:
1.The Graduate Lab Building
2.Run Run Shaw Lab Building
For reasons known to all, we will add more classroom/lab locations but no dormitory locations.