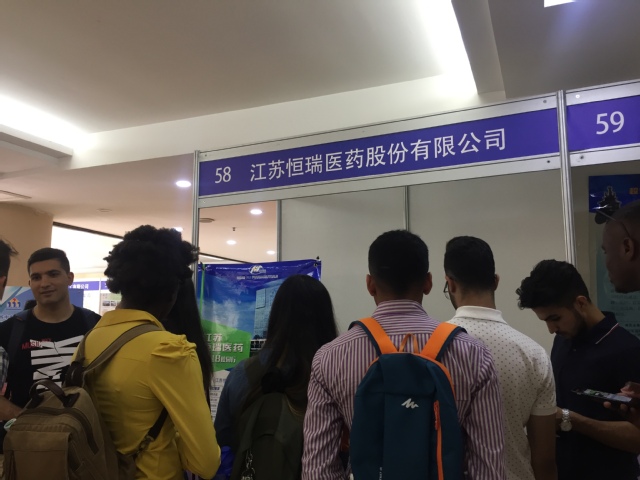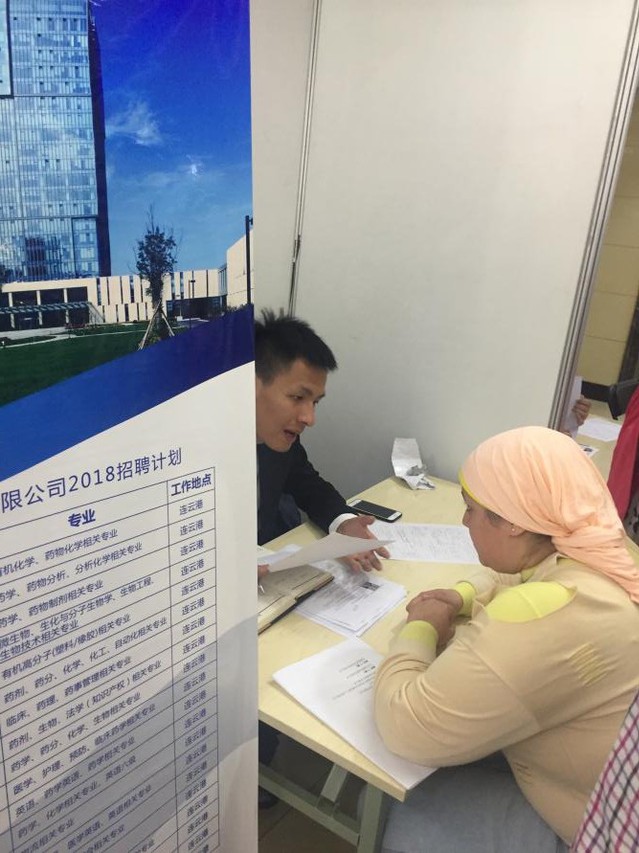 A group of students consulting a recruitment staff from Jiangsu Hengrui Medicine Co. Ltd. at a job fair for international students in Nanjing, Jiangsu province, on May 4.

May 4, Nanjing: As Jiangsu province attempts to attract more foreign workforce with higher degree to China's eastern shore, a "talent map" has been drew to forge closer ties between schools, enterprises, and international students on May 4th in Hohai University. The highlighted job fair for international students has attracted 71 enterprises and offered over 1,100 work opportunities in Chinese enterprises and their overseas sub-branches. More than 100 international students from China Pharmaceutical University attended this job fair.
Tran Thuy Linh, a third-year pharmacy student at China Pharmaceutical University, attended her first job fair. The Vietnamese girl was confident about discussing her advantages, for her HSK6 score of 252 points gave her a huge boost. Suzan Adel Salah, a postgraduate from Egypt, both her command of Chinese and her current pharmacy research make her stand out from the applicants.
The recruitment staff of Jiangsu Hengrui Medicine Co. Ltd. the front-runner in China's innovative medicine, said Chinese language competency is highly preferred. The company was looking for 50 international students majoring in pharmaceutics and will provide long-term employment in China.
This job fair provided an ideal opportunity for international students to gain an better understanding of Chinese work culture and understand the immense value of improving their professional skills, proficiency in Chinese and managerial skills. It also helps bridge the communication gap between Chinese employers and foreign employees.
Written by ZHANG Chen