Alipay, a.k.a. Zhi Fu Bao 支付宝 lets you pay for airline tickets instantly, pay for cabs and utility bills, or buy a street beer at Family Mart with just your phone. To join the magical wonderland of mobile payments, check the in-depth guide below on setting up Alipay and connecting a Chinese bank account.
Step 1: Download Alipay and Sign Up with Your Phone Number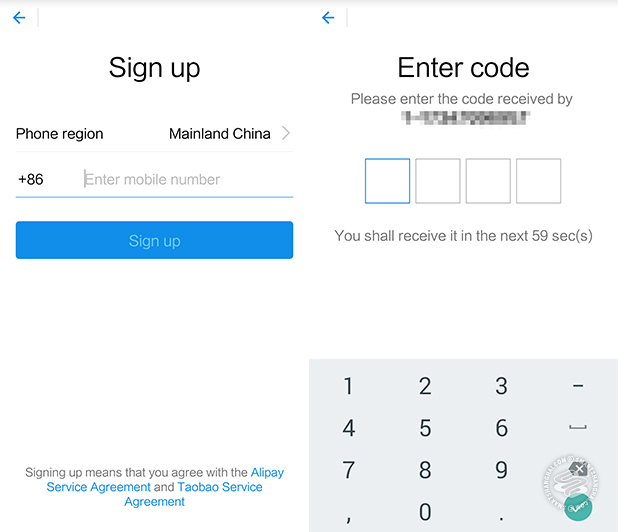 Get the latest version of the app from mobile.alipay.com or IOS APP store. Sign up with a valid mobile phone number. Alipay will send a text message with a confirmation code to the number, which you will have to input. Set a password on the next screen and the app will log you in automatically.
Next, let's add a bank card.
Step 2: Find The My Cards Screen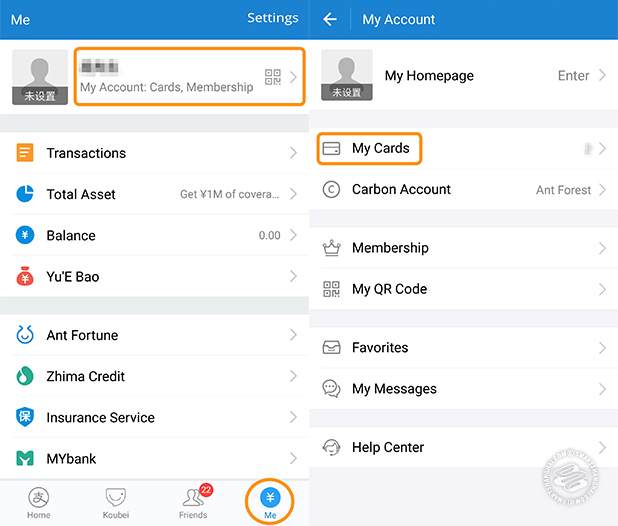 Tap Me on the bottom right corner, then tap My Account. If you haven't added a card before, it'll say Add Card next to the My Cards box. Otherwise, it'll display the number of cards you have. Tap it to add a debit card. The page after this will be empty if you don't have any cards linked yet. Tap the plus sign to begin the process.
Step 3: Enter Your Bank Card Info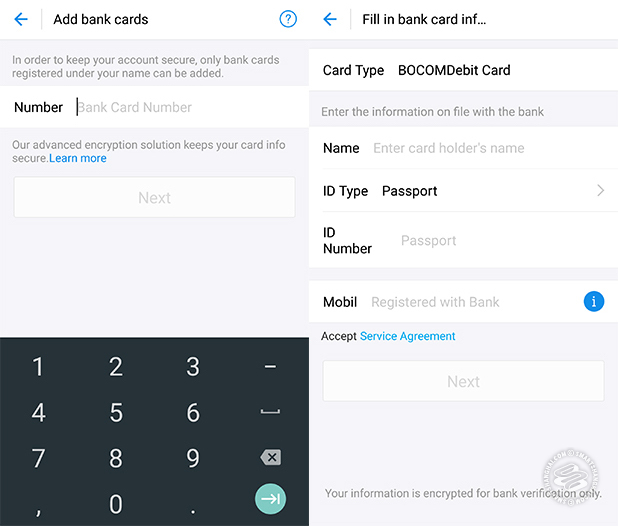 If this is your first time, you'll need to set a six digit code as your payment password. You'll be using this password anytime you pay online. After that you'll enter your Chinese bank card number. Hit next, and Alipay will display the name of your bank beside Card Type. Fill in your name and other information.
Step 4: Confirm Your Phone Number and Other Info Registered With Your Bank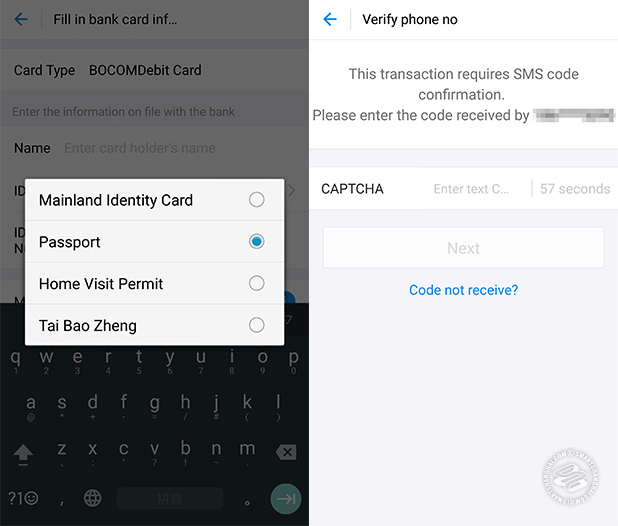 Be sure to select the type of ID you have and enter in your personal information exactly the way it is registered at the bank. This is super important. If you run into any errors after completing the information, it means that your bank records are somehow different from what you have entered.
(Tips: find the records when you opened a bank account, or draw/save small amount of money in the bank counter, and you will see exactly your account name, if different from your passport name. )
Try spelling your name in all caps and make sure that you are using the same special characters and phone number that your bank has on file. If none of this works, you can try going to your bank and setting up your Alipay account with the assistance of the bank's staff.
Alipay will send a text message containing a confirmation code to the phone number you've entered for your bank account. Enter this code to finish linking your bank card to Alipay.

Step 5: Make Payments!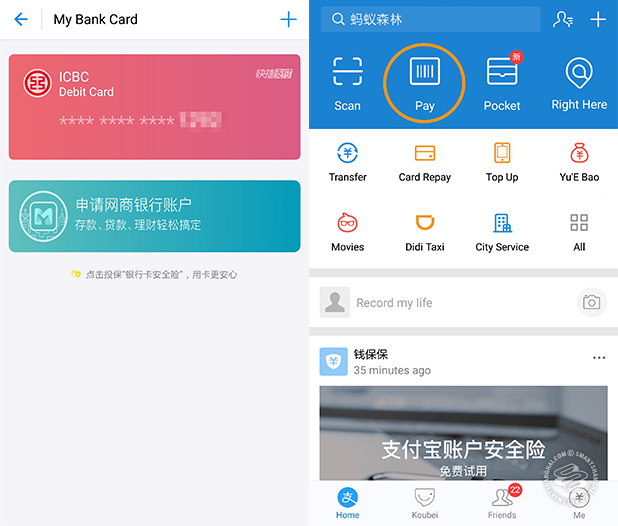 Your bank card will now appear in the My Cards tab. With that, you can make purchases with your phone just about anywhere in China. For on location payments, just tap the Pay button to load your personal QR code that can be scanned by friends and retailers.
Tap the scan button to make payments online at sites. Alipay will also now be an automatic option for payments within mobile apps like Didi taxi, Meituan, and of course, Taobao.
As for credit cards, an Alipay representative told us, Users can add international Visa/Master credit cards and can make Taobao payments, do mobile top-ups and use Fliggy (train ticket booking) through Alipay.