To drive a car in China, you need a Chinese driver's license. China does not recognize the International Driving Permit or other foreign driver's licenses. Only foreigners with a valid residence permit can apply for a Chinese driver's license. Tourists are therefore not allowed to drive in China.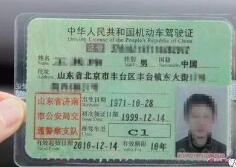 In 2012 the Ministry of Public Security published Rules of Motor Vehicle Driving License Application. This rulebook details the process that a foreigner needs to undertake in order to obtain a Chinese Driving License. Such foreigners generally fall under two categories: foreigners applying for a Chinese Driving License who already have a license in their home countries, and foreigners applying for a Chinese Driving License who do not have a foreign driving license.

Foreign nationals who have a driver's license from their home country can apply directly to their city's Vehicle Administration Office to convert their license. Applicants need to bring the following documents:
Application form

Identification Certificate, Work Permit or Attendance Letter, Passport

Medical Report issued by designated hospital

Foreign driving license with Chinese translation

1 inch full face photograph on a plain background
With these documents, the applicant must sit a theory test to in order qualify for the license. The theory test consists of 100 random questions out of 1000. In order to pass the applicant must correctly answer over 90 percent. In the larger Chinese cities including Nanjing this test is offered in several different languages so it is not allowed to bring a friend or translator.
After passing the theory test, the Vehicle Administration Office will issue a Chinese driver's license within five working days. This license only applies to cars. To obtain a license for buses or trucks, the applicant will need to take a practical exam for that vehicle.
Those who do not have a current driving license from their home country have to go through essentially the same process as Chinese nationals. You apply to the Vehicle Administration Office, bring the documents listed above and take the theory test just like foreigners holding a driver's license from another country. In addition, you will need to take classes and pass several practical driving examinations.This process, depending on what city and the number of applicants, could take anywhere from two weeks to three years.