Entrance #1
http://jwc.cpu.edu.cn/ (Undergraduate Affairs Office)
Click "学生" (student)

Then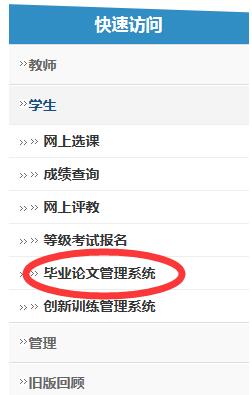 Then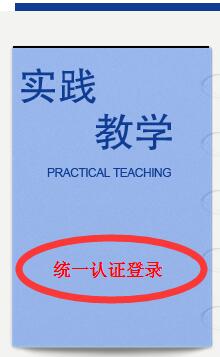 In the pop-out window, login your CPU student account.
Login ID: your student ID number

Initial Password is the same as ID number or 87654321
Having question about ID? Please look at your student ID and Campus Card.
Forgot your password? Please visit http://international.cpu.edu.cn/13/ea/c377a5098/page.htm or visit Campus Net Center (Library 7F) with your student ID booklet and Campus Card to reset the password
Then

Then you will see this page (Graduate Thesis System):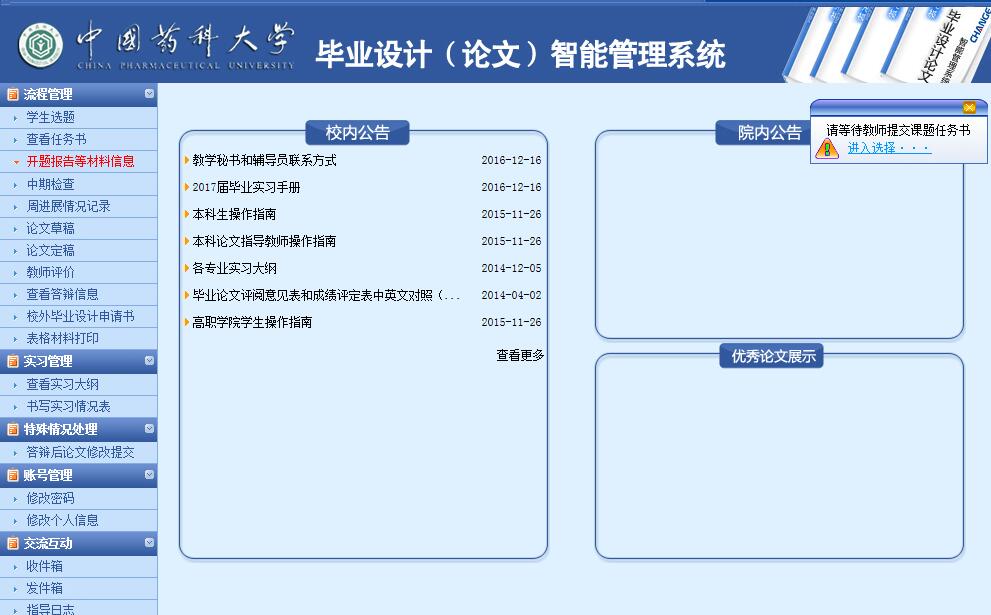 Entrance #2
If you try to directly login
http://bylw.cpu.edu.cn/index.aspx
It might not work due to unknown technical reasons

We continue with Graduate Thesis System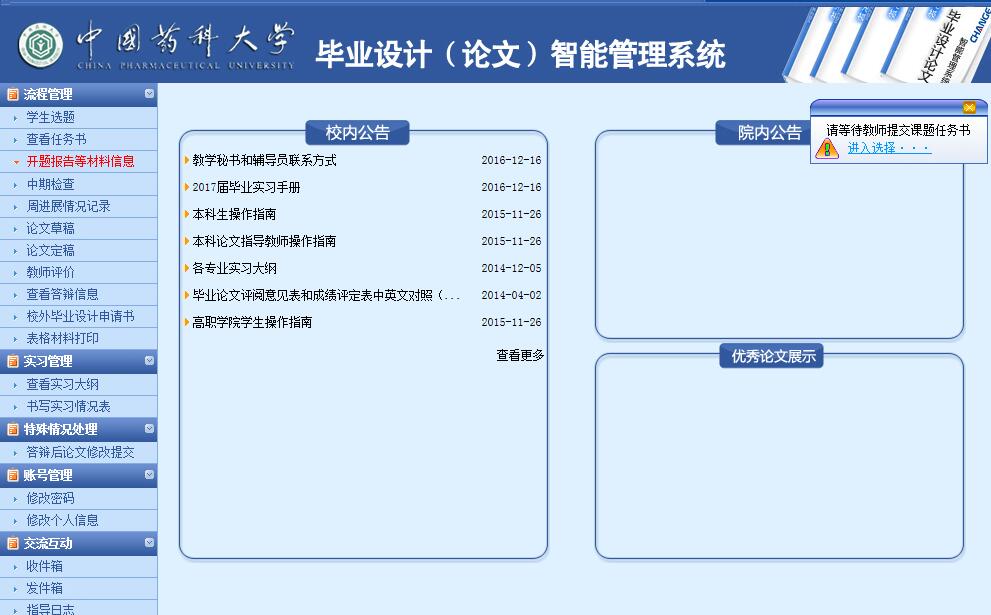 General Questions:
Q: In what browser can I open the page?
A: Internet Explorer (suggested)
Q: In what language shall I fill the online forms?
A: English and Chinese are both OK.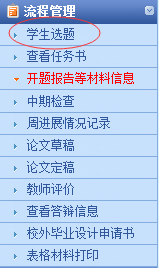 1. Choose a topic

Note:
Everyone can choose up to 3 topics

Before the deadline, you may modify any of the 3 topics.

Your choice will be submitted for review by all the professor of the area of study. Before the professor presses "confirm" you will still have time to modify.

As long as the professor presses "confirm", you will see only one of the 3 topics.

If you see "not chosen by the professor" it means the professor has chosen another student for this topic. Please modify your choice timely.

Sample of an approved topic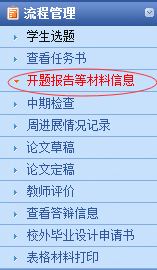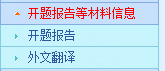 Click in 开题报告
2. Proposal
1. Submitted proposal is subject to the approval of your reviewer. Please check your status timely to confirm if your proposal is approved.
2. If your proposal contains lots of formulas, functions or equations, please upload .jpg documents. The system will automatically generate the comments.
3. Briefly describe the background, literature review, importance and innovative points of your proposed study.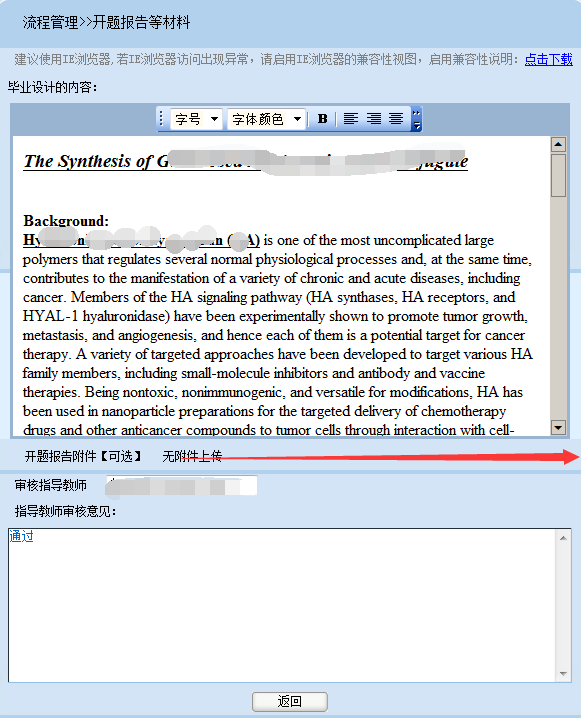 The red arrowhead shows where you upload the attachment documents (.jpg)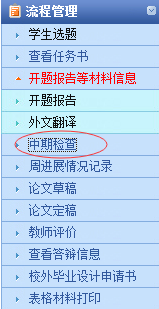 3. Mid-term Qualification of the Thesis
Briefly describe 1. progress you have made (e.g. literature review) 2. procedures that need to be done (e.g. experiments)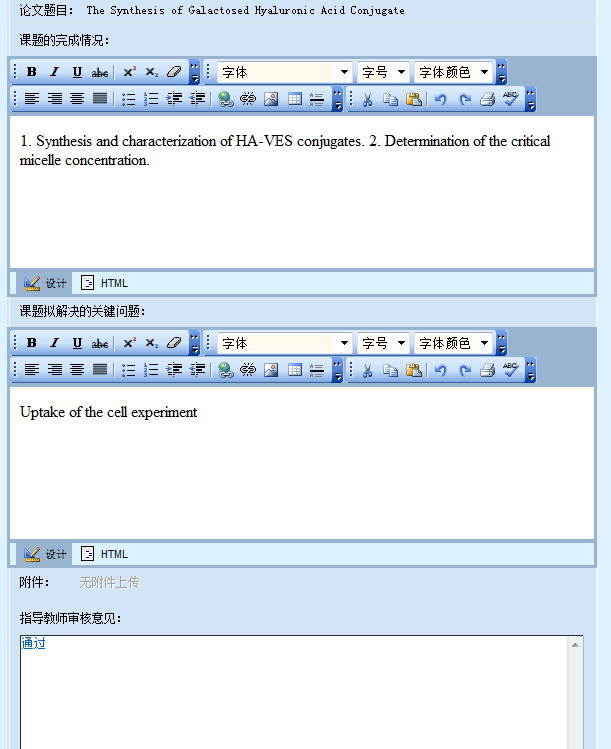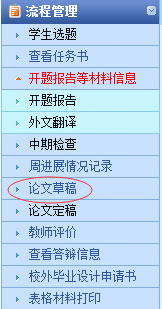 4. First draft of your thesis
All requirements equivalent to Chinese undergraduate students.
Please be notified that the word count of English words is usually 1.5 times of Chinese characters, according to the study of modern linguistics.
For example, if the requirement for Chinese is 20,000 characters, then you should write 30,000 English words.
Click to see the template http://international.cpu.edu.cn/71/dd/c7345a94685/page.htm
Contributed by Dr.HUANG Yiwei
Title, abstract in Chinese

Keywords in Chinese

Title & abstract in English

Keywords in English

Note:
Acceptable formats of thesis: Word or PDF
Requirements of attachment: zipped in one .rar file.
Audio: Mp3
Video: WMV、 RM、 AVI
Pictures: JPG or GIF
Text: PDF or WORD
Animation: GIF or FLASH
Size of all files shall be less than 50M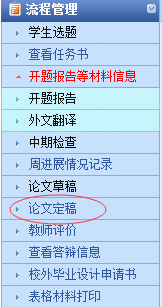 Final draft, same requirements